Hotel Comfort Bamboo Pillow
---
Experience The Hotel Comfort Difference

Outstanding Quality & Exceptional Value you can sleep assured with Hotel Comfort Products

We are so confident in our products that we decided to offer you a 100 night trial to sleep on or your money back!

Over 5 million Hotel Comfort pillows sold in the United States. We are known for Comfortable, Luxury Pillows at a fair price.
Make Your Pillow Problems
A Thing Of The Past
Hotel Comfort Bamboo Pillow is comprised of three layers. The first layer is made out of certiPUR-US high-density shredded memory foam that provides pressure relief and prevents the pillow from becoming flat. The second layer is made of adaptive transition foam and provides deep comfort and consistent weight distribution. The third layer is the hypoallergenic bamboo fiber case that keeps the pillow cool, wicks moisture and repels unpleasant odors. It is also removable and washable for your convenience.
Hotel Comfort Bamboo Pillow provides proper elevation to the head during sleep and relieves pain, opens up the airways and clears a better breathing path for those who have asthma or sleep apnea and for those who snore. The pillow is the perfect consistency and provides the necessary support to fit all and any kinds of sleepers! The outer layer of the pillow can even better the complexion of your skin!
Made with hundreds of little triangles so the pillow can relax under pressure without losing support. The reinforced edges give your neck extra comfort all night.
Waking up hot and sweaty is the worst. Sleep neutral-not too hot, not too cold-with the Hotel Comfort Bamboo Pillow because it allows air to flow freely around your noggin.
The Hotel Comfort Bamboo Pillow is made with High Quality Shredded Memory Foam which conforms perfectly to your neck & back, it will never break down or lose shape.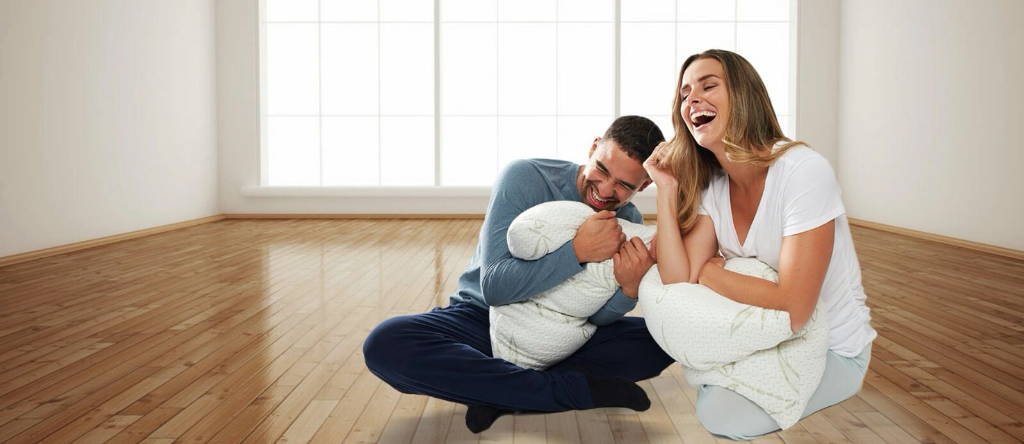 "I absolutely love the pillow"
"When my husband and I moved to our new apartment we noticed our old pillows were carrying the old house musty smell on them so we had to get new pillows, let me tell you, these pillows are the best pillow we ever had! It's been a few months since and we they still fell the same as day 1!"
-Sheila T.